Hello everyone! Two weeks ago we posted our recaps of rounds 1 and 2 of playing the entries to AdvXJam 2021, a two-week gamejam focused on narrative games.
The AdvXJam 2021 was hosted by AdventureX, a UK-based convention that is dedicated to narrative-driven gaming, and took place from November 13th to November 27th. 18 entries were submitted and we decided to play all of them in a 4-part series of #OTBTplays.
This post summarizes the remaining 10 games that we played. We also want to take the opportunity and thank all of the developers involved, there's not a game among the entries that we were not excited to try!
Round 3:
For our third round, we chose the games Tales from The Outer Zone: The Construction, Ossuarium, Space Marmalade, and Hoofield. See our impressions of these four games here:
Tales From The Outer Zone: The Construction by Malte Burup, Rasmus Nilsson (Download here)
The Construction is one of those games that make you forget that all of these games were developed over just two weeks due to how polished it is. While working on a futuristic structure, the young Constructor has to find a way to mine more of the Zygnoka crystals needed to power machines.
The game features a few very satisfying puzzles, as well as an exposition that quickly transported us into the world of Tales From The Outer Zone – this game is actually part of a whole series! And we can't wait to explore more of it.
---
Ossuarium by Kasia "Hitohai" Wasylak & Jan Vávra (Download here)
Ossuarium quickly cast a spell on us with its witty puzzles and wonderful dialogues. The whole game is written in an impressively Shakespearean manner (The devs assured me that they barely used the Shakespearean translator 😉) and let's just say it was a lot of fun voicing the resulting dialogues.
The game takes place in a black-and-white medieval world and puts you into the shoes of Marie and Jakub, who are trying to escape a terrible curse. A wonderful point-and-click adventure that we appreciate for its dark humor!
---
Space Marmalade by polytely games (Download here)
Well, Space Marmalade certainly features a surreal storyline: Jeff, a technician on a salvage space ship, works on his first video game, which he wants to submit to AdvXJam 2042 – and his acceptance speech for the best game is already coming along nicely.
While we were not near to finishing this game after our 15 minutes with it, we got to see some witty dialogues and well-thought-out gameplay, namely doing Jeff's work and collecting space salvage. Again, we had a lot of fun voicing this and were happy that Robo-Jens had his time to shine.
---
Hoofield by Dan Hansen (Succulent Bacon), Amy Tant (SummerB76) (Download here)
Hoofield is a wonderful love letter to Powerhoof, a studio that is best known for its dungeon crawler Crawl and the 2D adventure toolkit PowerQuest, as well as the famous TV series Seinfeld.
This is such a satisfying game that we actually managed to complete in the short time we had. It throws you right into the Sitcom-feeling and leaves you with a lot of sympathy for its limited cast of characters, as PowerHoofs Dave really just wants to relax for a minute after releasing their latest masterpiece. But will his neighbors let him?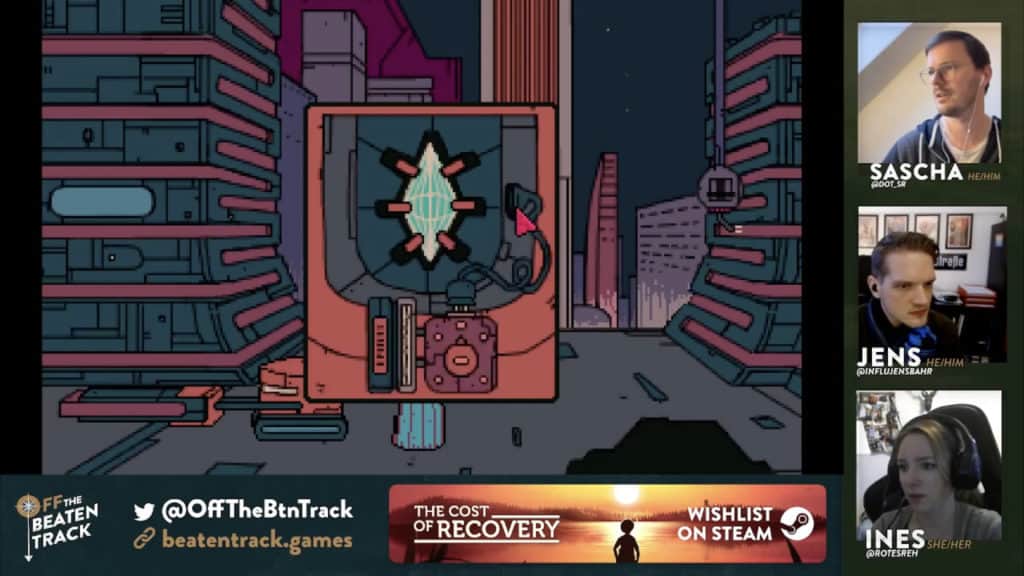 Round 4:
Our last round included the five remaining games, though in the summaries below you'll also find The Adventures of Captain Walkins, which we played during our first round but could not complete. Apart from that, this last round included the games Perilous Wilde, Emergency Telemarketer Force, Contact.zip, Fixalot, and The Weeping Chronicler's Tale of Cursed Volaria.
You can watch the VOD or read our short impressions below.
Perilous Wilde by deivore (Download here)
Perilous Wilde gave us a wonderful glimpse of a classic point-and-click adventure experience and involved one of our favorite things – dice! Dice and failing! Experience the days leading up to a group of adventurers' attempt of capturing a weapon delivery.
The game offers a semi-linear experience, as you'll have to roll the dice again and again when trying to accomplish certain tasks, be it by talking or unsheathing your sword Our favorite moment was when we actually failed one of those tasks, as this is something we so rarely get to experience! Also, we watched in awe when we first saw the world map with its various locations.
---
Emergency Telemarketer Force by DevOrion, ArthurPaulino, MichaelHamiltonMusic (Download here)
Show off that Telemarketer badge! Emergency Telemarketer Force follows Agent Frank Lee as he tries to find out why more and more people are joining the "Do Not Call" list – what a ridiculous thing. After all, Telemarketers just want to do their contribution to society!
This was such a fun game, and though the option of nine verbs to choose from seemed complicated at first, it quickly became very intuitive to use. We really appreciated that the game encouraged us to use all our items on… well, anyone! And that it always had a witty line in store for us. Our favorite thing? Showing our ETF badge to everyone, of course!
---
Contact.zip by SecretFoxfire (Download here)
This game definitely stands out among all the submissions, as it is the only game that is played in your file management system and does not include an actual app! On a soon-to-be recycled computer, you find a few remaining files labeled "contact.zip", and they hide a mystery…
Thank you, SecretFoxFire, for showing that you don't have to be a programmer to make a great game! Everyone can do so, with a great idea and the creativity and ambition to implement it. This also serves to diversify the selection of games! Sadly, we didn't have nearly enough time to finish this, but it's a great contender for its own stream!
---
Fixalot by studiohazy (Download here)
Fixalot follows the adventures of a handy-slug that has to fix the local power station as the castle suffers from a blackout, forcing all the kingdom's animals to stop their party. On the way, you encounter all kinds of different animals, creatures and of course: puzzles.
What really stands out in Fixalot, besides all the funny situations and dialogues, is the voice acting. Studio Hazy managed to bring professional voice actors on board and it shows! While we always have fun doing the voice acting ourselves on stream, we were happy to step back and let the voice actors shine in this one. Also, are teeth bones? 😄
---
The Weeping Chronicler's Tale of Cursed Volaria by IllabErek, eifoz, OneClick (Download here)
As the only first-person game among this jam's submissions, The Weepong Chronicler's Tale of Cursed Volaria tells its story a little different. While delving through a dungeon and defeating the residing creatures, you'll find scrolls that tell a story of how the kingdom of Volaria became cursed.
The game offered a beautiful combination of gameplay and storytelling and left us wanting to find out more and possibly save this cursed kingdom!
---
The Adventures of Captain Walkins by Vasilis Chonianakis, Spyridon Glarakis (Play here)
Now, we actually played The Adventures of Captain Walkins during our very first stream but had to end it at some point because we could not proceed the game. However, what is there looks very promising. Play as Captain Walkins, who lands on a foreign planet and, with the help of his crew, tries to establish a first contact with the planet's inhabitants.
We were amazed by the beautiful pixel graphics and the Star-Trek-like setting and would love to find out more about how this first contact is going to end.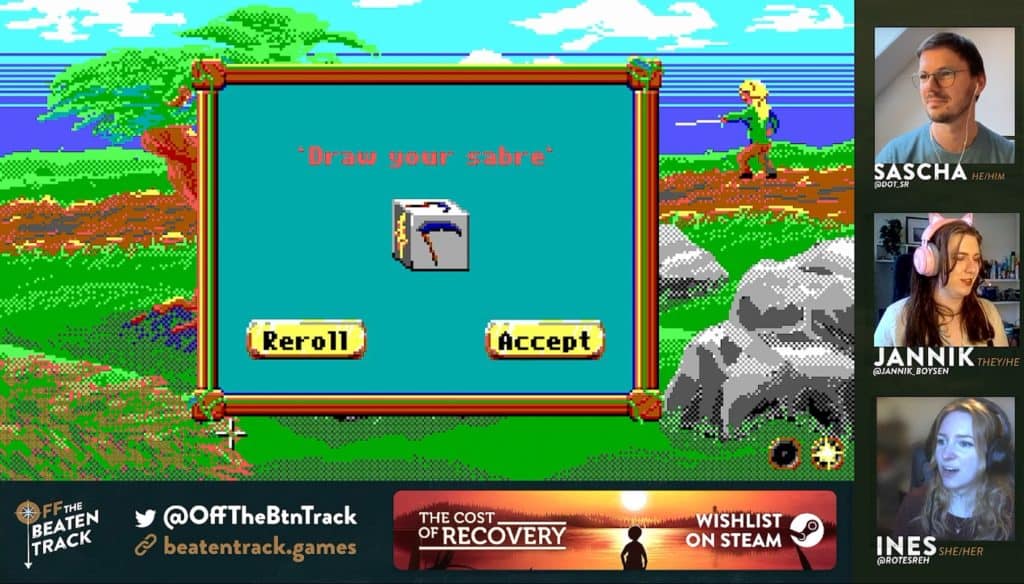 Join us for our next stream!
Sadly, there are no more AdvXJam2021 submissions for us to play! We had a lot of fun with every single game and were amazed by how different the theme "Contact" was interpreted by every single one of the devs.

However, that does not mean there won't be more live content coming from us! Of course, we're looking forward to Global Game Jam and Adventure Jam happening soon/later this year. In the meantime, we'll continue our #OTBTtalks series to talk about various game development themes and try some new indie titles.
To find out more about our upcoming streams, follow us on Twitch or Twitter or join our Discord! That way you won't miss the announcements of our upcoming streams!
We're also currently working on our story-driven adventure "The Cost of Recovery". It'll put you into the shoes of different family members when one of them suffers a stroke. What sacrifices are you willing to make to keep your loved ones close? Check out the game on Steam by clicking on the banner below!