Hello everyone! Earlier this year we played all the entries to the Adventure Jam 2021 – as you know, we are always terribly excited for narrative adventures! So we were delighted to see AdvXJam 2021 taking place, another two-week gamejam focused on narrative games.
The AdvXJam 2021 was hosted by AdventureX, a UK-based convention that is dedicated to narrative-driven gaming, and took place from November 13th to November 27th. 18 entries were submitted and we decided to play all of them in a 4-part series of #OTBTplays.
This post summarizes the first 8 games we played. We also want to take the opportunity and thank all of the developers involved, there's not a game among the entries that we're not excited to try!
Round One
For our first round, we chose the games LEAVE, Contact, Space Spy: Contact Uranus, The Will of Arthur Flabbington, and The Adventures of Captain Walkins. We had to postpone playing the latter because of some issues with the game but will try again in the future. See our impressions on the first games here:
LEAVE by João Dias @bitsandcrafts, with music by Mark Ayton @Lusty_Bard (Download here)
An incredibly beautiful game about leaving. While the game has an average playtime of only a few minutes, there's still a lot to investigate and to take in. We enjoyed every minute of it, not least because of its beautiful soundtrack.
---
Contact by ukz530 (Download here)
Contact is a game about a young woman who is faced with the fate of her family after being contacted by her father and making her way home.
While it seemed like a laid-back pixel adventure game at first, it quickly sent us to the edge of our seats with fast-paced quick-time events. We got stuck on its puzzles for a while but that just meant it felt even more satisfying when we finally got it right and got the ball rolling.
---
Space Spy: Contact Uranus by olivieryc, ndemaio, NevEagleson, puggsoy, kalelovil, SlimTimSnail (Download here)
In Space Spy: Contact Uranus we had to infiltrate the Still Independent Criminal Association's annual Gala to find our Contact and thwart an evil plan!
It's a charming game, full of interesting characters (honestly, it was hard to decide who to talk to first) and great humor – we certainly had a lot of fun with it, even though we could not finish it in time!
---
The Will Of Arthur Flabbington by Gugames (Download here)
We first played a game by Gugames when we tried the submissions to Adventure Jam earlier this year and we were so happy to see them again as a creator for AdvXJam! This time we took the role of Jack Flabbington who is desperately trying to contact his uncle's spirit in the afterworld.
Again, we were astonished by the level of quality that Gugames delivered. The Will of Arthur Flabbington has great pixel art, awesome humor (it's not hard to notice that we had fun with this, regarding the screenshot!), and puzzles that made us think without being frustrating.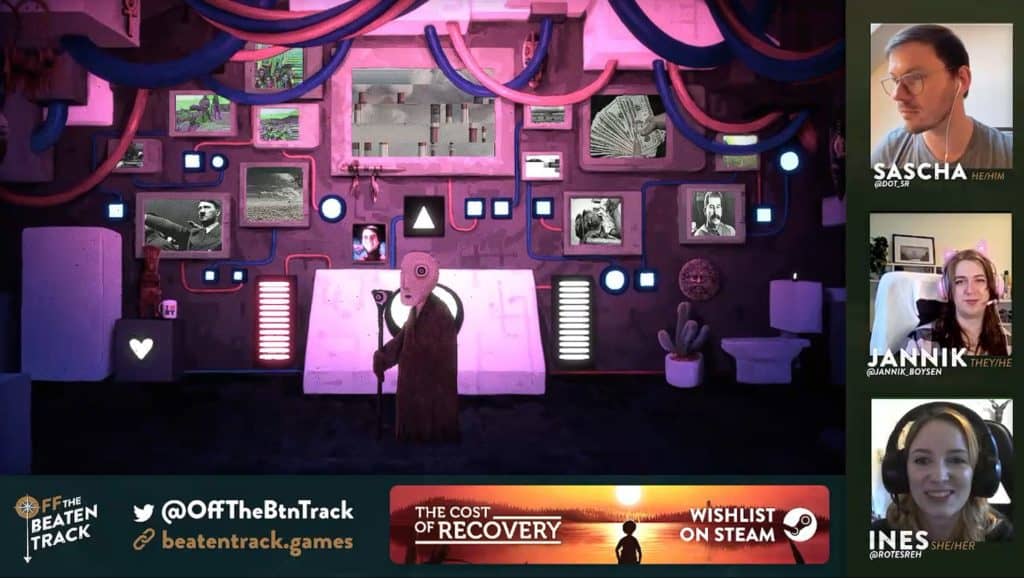 Round 2:
Our second round included another selection of four games, this time including The Package, Language Spy: Covert Contact, Torus Trap, and We've Been Trying to Contact You.
You can watch the VOD or read our short impressions below.
The Package by Analog Limb (Download here)
Short but sweet – Analog Limb developed the Package in just one day! While it only took us a few minutes to finish it, it sets a great basis for more content. Visually and especially acoustically, it was a satisfying experience that leaves us waiting to find out more about our two main characters and the mysterious package they're carrying.
---
Language Spy: Covert Contact by Vance (Stand Off Software) (Download here)
Now, this is a special one! We've played games by Vance (Stand Off Software) before and we were excited to see his name among the participants of this jam. Language Spy: Covert Contact is a simple language learning game that challenges you to decipher the language of the strange village you're investigating. We chose to play the game in Spanish and – while we're sorry for butchering the Spanish language as we did – We had so much fun with it! Honestly, this game alone makes it worthwhile to watch the VOD of our second #AdvXJam2021 stream!
---
Torus Trap by Ernieboros Games (Download here)
Torus Trap is certainly an ambitious project! The game follows lonely spaceman Ernie, whose only source of interaction is the ship's unbearably serious AI Anteros, during his daily routine. While we could already explore the whole ship and its humorous locations (be it the messy Mess Hall or the Life Support filled with motivating messages), there was not much to do – yet! The basis is great and we're really hoping that Ernieboros will continue to finish the game!
---
We've Been Trying to Contact You by Tompdan (Download here)
While at first glance We've Been Trying to Contact You reminded us of Pokemon (visually), it certainly captures a very different vibe. As a strange car salesman is trying to make us buy a car, his approaches get more and more aggressive and… spooky. The sound design especially made this game a creepy experience that left a lasting impression. You should give this game a try if you're craving a chill along your spine.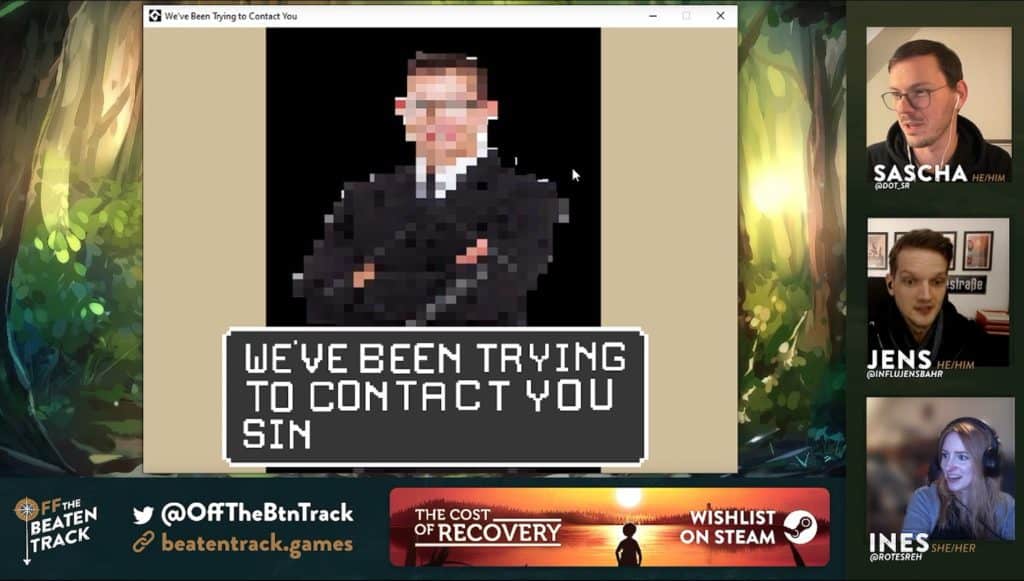 Join us for our next stream!
Of course, there are more AdvXJam2021 submissions for us to play! We'll be streaming part 3 and part 4 on Wednesday, December 29th, 3pm CEST and January 5th, 3pm CEST. Join us live on Twitch to have a chat with us and to share our impressions.
We're also currently working on our story-driven adventure "The Cost of Recovery". It'll put you into the shoes of different family members when one of them suffers a stroke. What sacrifices are you willing to make to keep your loved ones close? Check out the game on Steam by clicking on the banner below!