Now and then, I find a game I itch to come back to in 5 minute-intervals, for just another round, another run, or just until I have to get back to boring chores. In the past, games like Devil Daggers, Hades or Spelunky have been these daily drivers for me, and at some point, Mixolumia by davemakes (with additional music by Jasmine Cooper and Josie Brechner) was just the game I had waited for to replace them.
Mixolumia is a small & extremely polished entry in the ever growing library of falling block puzzlers. Unlike Tetris or Dr. Mario though, the playfield in Mixolumia is odd in all the right ways. Spaces are rotated by 45 degrees, making you stack 4-coloured gems in rows of three or boxes of four to clear the board. The first few games I played, my brain started hurting as I realized I have not played a board layout like this, and it definitely took a few minutes to adjust.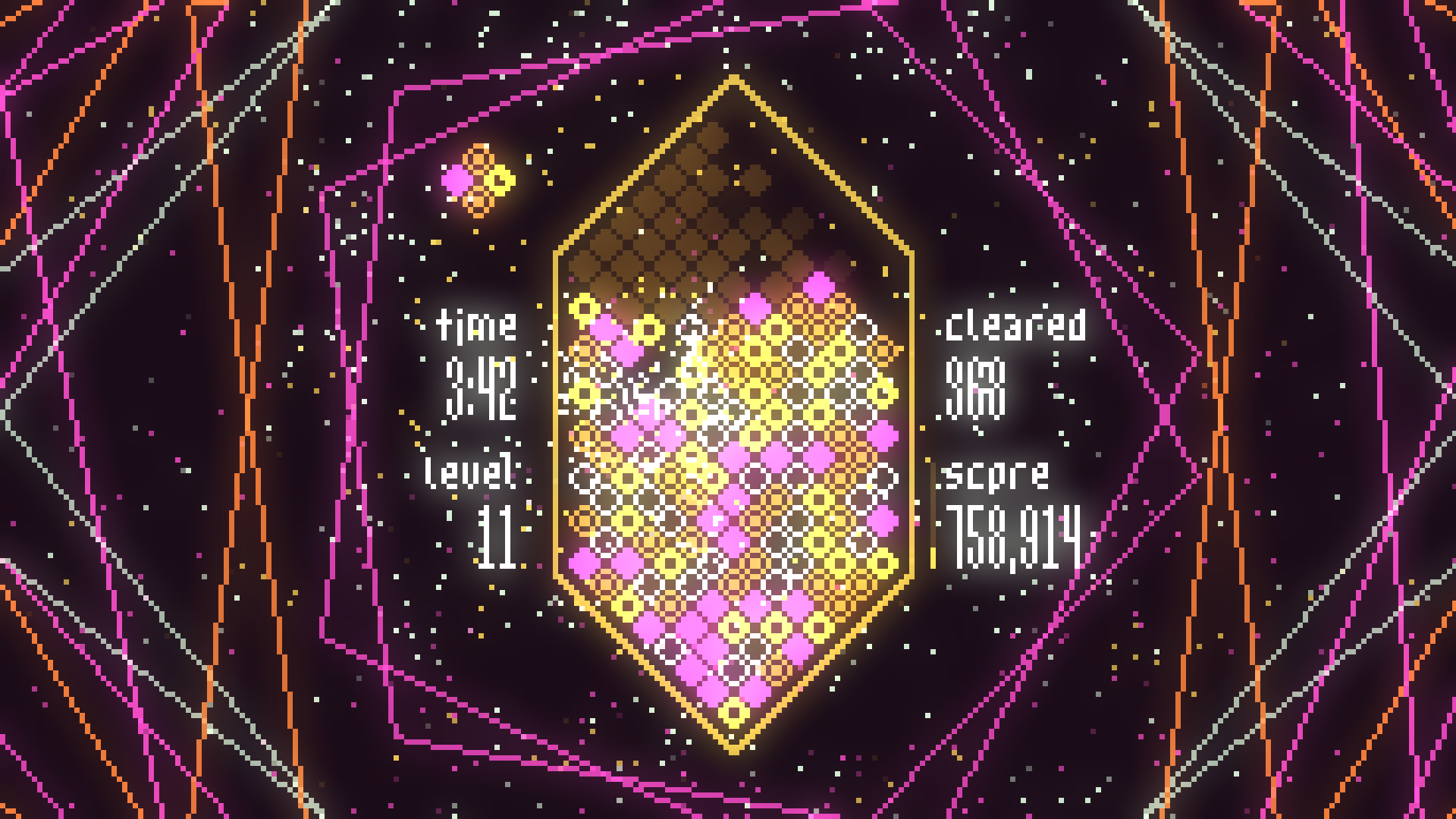 The real magic starts as soon as you turn up the audio. Every sound in Mixolumia is synced to the soundtrack that is currently playing. Every particle effect, every block cleared, all of it coalesces into what the creator themself titles "A Shimmering Fountain of Good Brain Juice". If you get tired by one of the tracks, multiple music packs keep the game fresh just by giving you new beeps and boops to clear some gems to. Additionally, davemakes has built tools for players to integrate their own sound packs into the game, so a quick look around on itch.io will yield you a boatload of assets that transform the experience.
One small thing that I thought was wonderful is the way the itch.io game description begins: instead of pitching the game to you, davemakes takes a moment to recommend similar games to you. It always makes me smile when I visit the store page, and this indie spirit makes me really happy to be a part of the space.
If you're not only looking for a game, but an audiovisual experience designed to draw you in and make you forget the room you're in, Mixolumia is sure to keep you bobbing your head to the sound of your own success for a good while.
This article is an extended version of the Indie Gem Corner section in our monthly newsletter, The Narrative Outlook. If you are interested in fresh news on narrative games and what our studio is up to, feel free to subscribe right on our website. If you would like to play Mixolumia, head over to itch.io or Steam. Don't forget to tell us about your favorite soundtrack on our Discord.