Tired of null references and incorrectly set up Unity components? Introducing Sparrow Verification: a tool designed to automatically identify and resolve common issues in your Unity project. We've crafted it with adaptability in mind, allowing for easy adjustments and extensions to suit your project's needs. Moreover, it offers a sleek, fast, and lightweight solution, ensuring that your project remains unbloated and processes run smoothly.
View on Unity Asset Store
Need help?
🗒️ Documentation | 📺 Youtube | 🗯️ Discord | 📧 Contact
---
> PROJECT Verification
Automatically identifies issues throughout your project and offers fixes for various types of problems. Working on a specific scene? Easily fine-tune which objects are checked to focus on your current work. All problems are clearly grouped and troubleshooting is simplified. Verification offers troubleshooting tools to fix multiple issues either simultaneously or individually.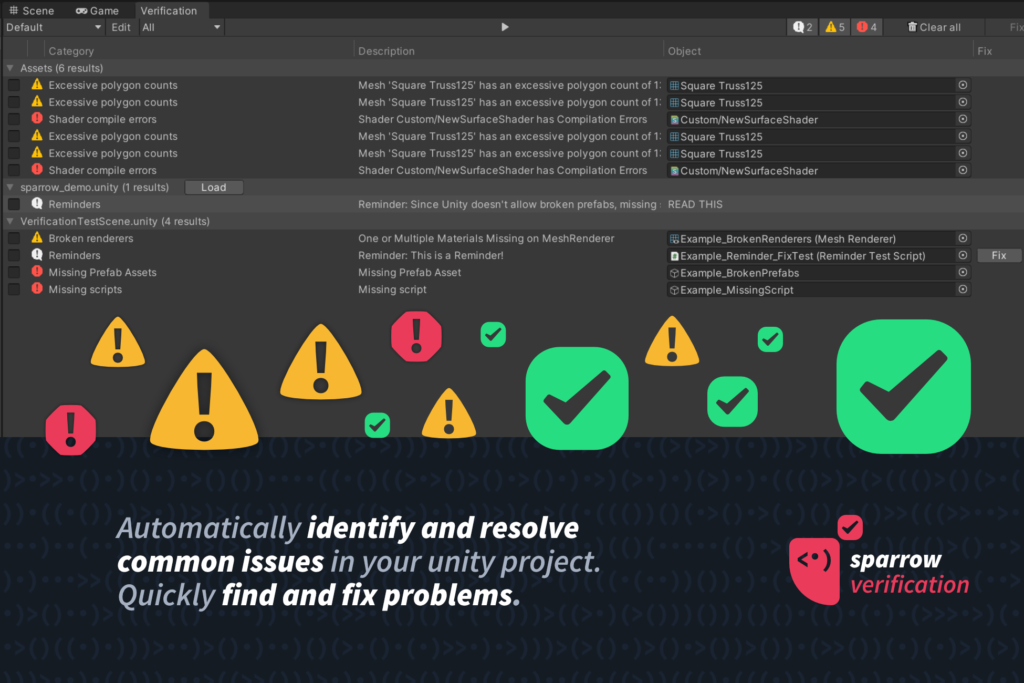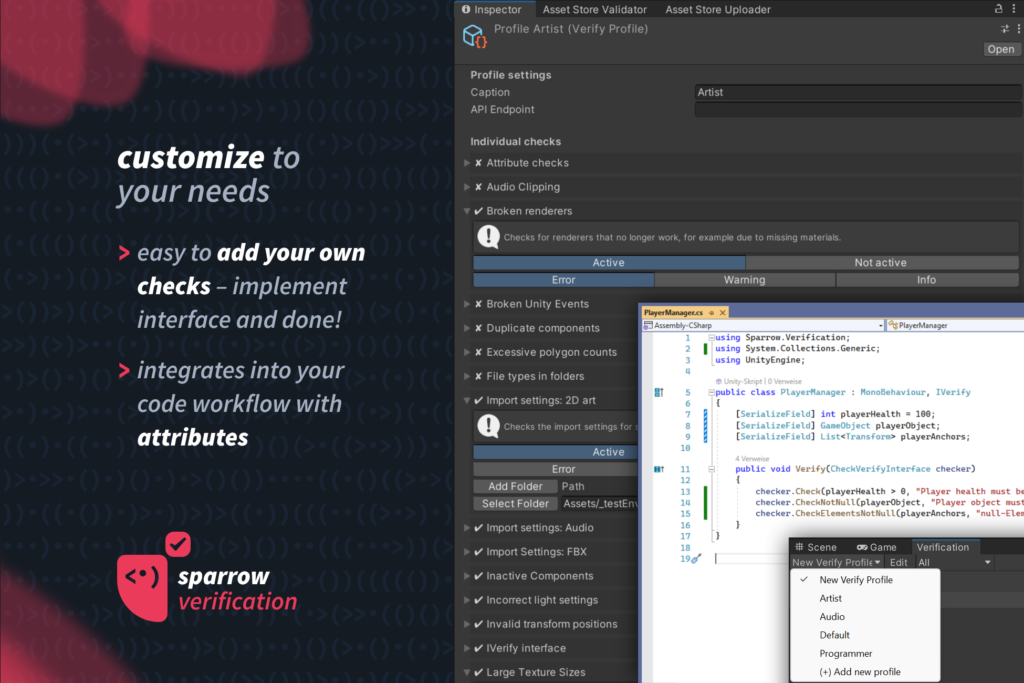 > Profile Support
Customizable validation profiles cater to various user roles, including artists, developers, and audio technicians, ensuring a tailored validation process. We've also included some common-use profiles to give you a head start.
Robust functionality enables you to review and adjust import settings and folder placements, ensuring consistency and correctness for all assets in your project.
> Powerful builT-in checks
From detecting missing references and broken assets to spotting invalid layer assignments and broken shaders, we've got it all covered. Our built-in and validation attributes are designed to track a wide array of potential issues ensuring a smooth sail for your project development.
Ensures zero impact on your builds and game performance by encapsulating all code within the editor.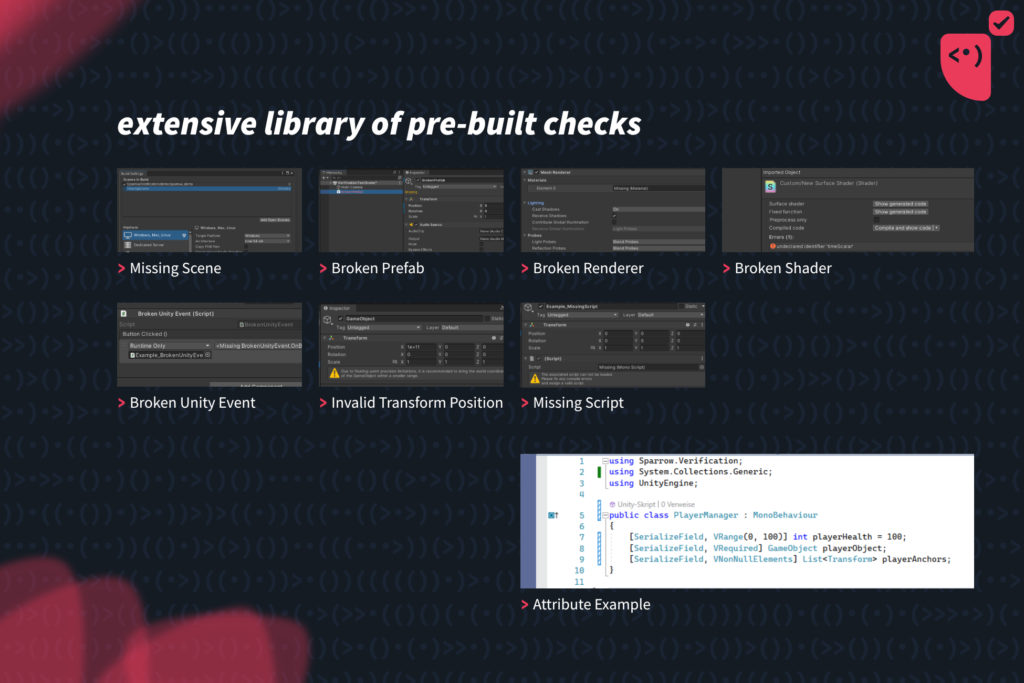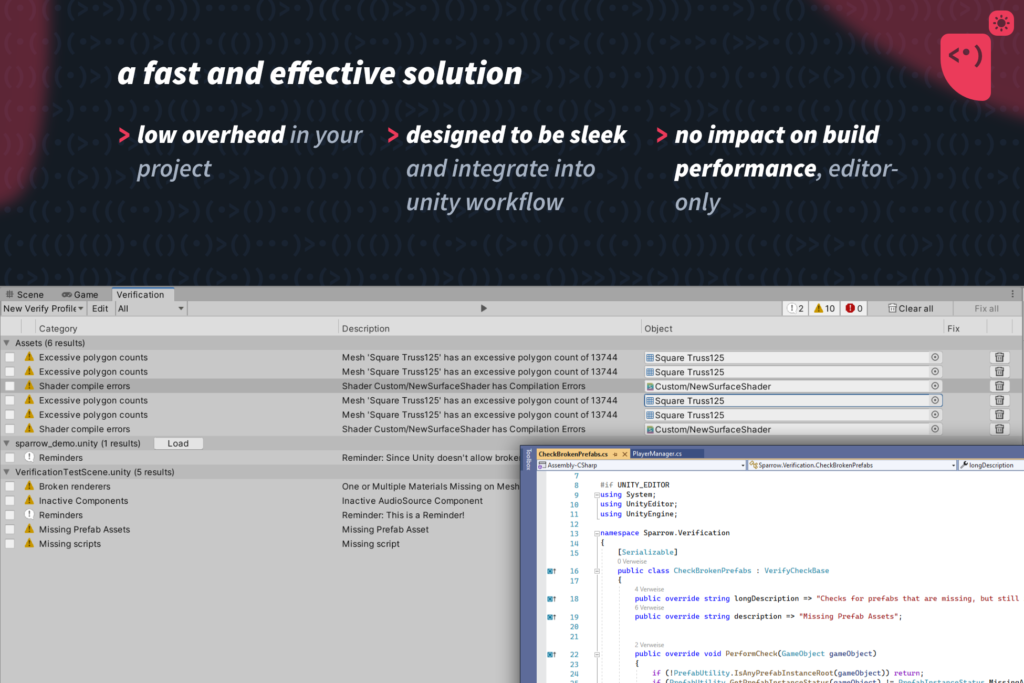 … and much more
Facilitates easy reviews and documentation with HTML and JSON export options. You can also transmit the test results to a custom API endpoint.
The system integrates into your automatic build processes and is callable from the CLI, allowing for automatic periodic scans using cron, etc. Sit back and let system do the work.